San Diego – Cook + Schmid (C+S) today announced that the American Advertising Federation recognized the firm's work with seven awards, including three Silver and four Bronze awards for a public health campaign conducted during 2020.
Silver Awards included the categories of Social Media, Innovative Uses of Technology, and Corporate Social Responsibility/Online. Bronze Awards included Banner Ads, Online/Interactive Campaign, Corporate Social Responsibility Marketing and Special Advertising, and Online Advertising/Promotion.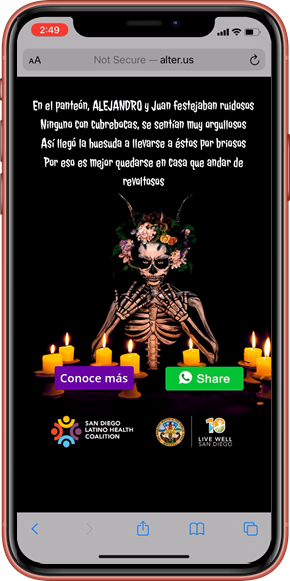 The awards acknowledged an outreach program that C+S developed for the Chicano Federation and the Latino Health Coalition, designed to raise awareness about the dangers of Covid-19 in San Diego's Latino community.
As part of the program, C+S implemented a highly creative multicultural campaign around Dia de los Muertos. The work leveraged WhatsApp, highly popular with Latinos, to enable the sharing of traditional holiday poems, known as Calaveritas, that could be customized to include Covid-19 messaging with the names of friends and families. The Calaveritas were shared on WhatsApp at a rate of 32 percent, demonstrating they were highly popular. The technology also drove tens of thousands of visits to the website over the span of the implementation.
The Dia de los Muertos WhatsApp initiative was part of a larger campaign to educate Latinos about the importance of taking precautionary measures, testing and how to avoid infecting others in the community.
In the fall of 2020, the Latino community in San Diego had Covid-19 infection rates that far exceeded that of the general population. However, over the five weeks of the campaign, the percentage of those infected that was accounted for by Latinos consistently dropped.
"It was critically important to relate to Latinos on a cultural level in order to deliver Covid-19 messaging in a way that would resonate," said Jon Schmid, CEO of C+S. "This is a great example of how digital media, when combined with a multicultural approach, can be extremely effective."
ABOUT COOK + SCHMID
Cook + Schmid is a full-service marketing, advertising and public relations firm in San Diego, CA. Clients include private and public companies, organizations, institutions, and government agencies. Cook + Schmid offers multi-cultural marketing and public outreach, as well as social media, website, interactive technologies, and mobile application development. For more information, please visit www.cookandschmid.com.
###